SK C&C Takes Part in Habitat-SK Happy Village Project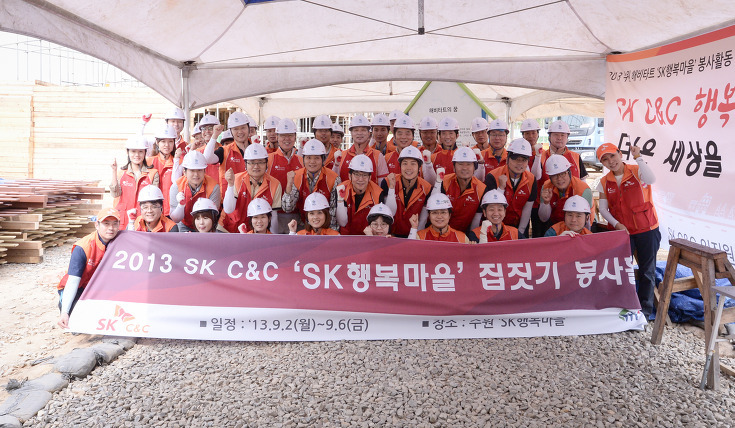 SK C&C (www.skcc.com) announced on Sep 5 that some 200 of its employees had taken part in the 5-day Habitat-SK Happy Village project through which volunteers build houses for low-income families. The houses-for-non-homeowners event took place in Suwon, just south of Seoul.
On the opening day, President & CEO Chung, along with some 60 SK C&C and SK Encar employees, helped build ceiling, under-floor supports and wooden fences at the SK Happy Village program construction site.
The Habitat-Happy Village in Suwon, sponsored exclusively by SK Group, is a seven-building apartment complex project set for completion by the end of this year. Some 60 low-income households without homes will be presented with their very own apartments.
President and CEO Chung said, "I was all fatigued by endless hammering and painting, but the thought of smiles on the families who would soon be moving into those homes gave me strength to go on, and that's why we sweated it out today so that the new families will have homes filled with happiness."
SK C&C has been providing various residential environmental services since 2006 in the Gyeongi and Chungnam Provinces, including the Habitat project, an emergency relief KIT production project, providing assistance to the elderly living alone and decorating street walls.